DOKUMENTASI KEGIATAN PROFESSIONAL SECRETARY TRAINING
TARAKANITA COLLEGE
6 – 7 Februari 2014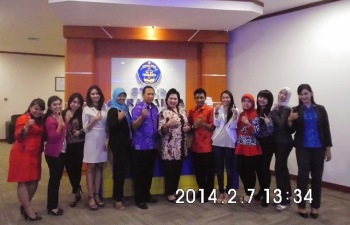 KEGIATAN IN HOUSE TRAINING PROFESSIONAL & EFFECTIVE SECRETARY
KEMENTERIAN PERHUBUNGAN
16, 17, 18, 23, 24, 25 September 2013
STIKS Tarakanita Thamrin City
Program ini dirancang untuk memenuhi kebutuhan perusahaan dalam meng-upgrade para karyawan. Waktu, tempat, dan biaya disesuaikan dengan permintaan perusahaan dengan jumlah minimal peserta 20 – 30 orang.
Subjects Option IN-HOUSE TRAINING PROGRAM:
1. Filing system (Record Keeping and Record Management)
2. Table Manner
3. Ticketing
4. Protocol & Etiquette
5. Advanced Customer Care
6. Professional Image and Personality Development
7. Secretarial Duties, Roles and Responsibility
8. English and Indonesian Business Correspondence
9. Business Etiquette and Professionalism
10. Office Management
11. Business Communication
12. Performing and Managing Tasks
13. Project management for PAs, Administrators and Secretaries
14. Supporting your manager
15. Success Skills for PAs and Executive Secretaries.
16. Professional development for Senior PAs and Executive secretaries
17. Personal effectiveness through interpersonal communication and self- confidence
18. Time management for office professionals.
19. Providing Administrative and Secretarial Support for Teams
20. Writing Effective Business Reports
21. Speaking and Presenting for Office Professionals
22. Essential Finance for Office Professionals
23. Minute Taking with Confidence
24. Creating Tomorrow's Leaders Today
25. The Effective and confident Administrators.
26. Assertiveness and self-confidence development.
Fasilitas:
· Instruktur profesional
· Module
· Sertifikat
· Training kits
· Visual aids
· Hotel – optional
· Lunch & coffee break
· Documentation (DVD & Photo) – optional
Dan masih banyak pilihan program training lainnya. Untuk info selengkapnya dapat menghubungi Marketing Executive Tarakanita College (021) 8651765 Ext. 612 atau (021) 86900305